The Apple rumor world kicked into overdrive again today as evidence of a tantalizing new iPhone in the works was revealed.
First reported by Engadget, a chain email featuring a humorous picture of a monkey using a telephone was forwarded to someone from an Apple email address, setting off a chain reaction of speculation of an upcoming iPhone specifically designed for monkeys.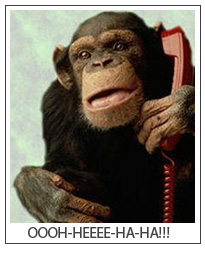 Apple Insider then picked up the news and proclaimed "Clearly this means that Apple intends to deliver a monkey-enabled version of the iPhone."
Think Secret had a different take. "Clearly this means that everyone who buys an iPhone Pro, which is coming out next week, will get a free monkey."
And Mac OS Rumors said "Apple will introduce crank-powered monkeys at a special event on the Apple campus tomorrow. The phone is just a red herring."
But not everyone was as sanguine about the iPhone/monkey rumors.
"This is ridiculous," said the iPhoneless Merlin Mann. "Someone sent someone a picture of monkey. It doesn't mean anything!
"Besides, who's to say the current iPhone was not designed for monkeys?
"And I think you know what I mean by that."